Introduction
If you've committed to carrying a short barrel rifle or shotgun, sub-machine gun or AR pistol you're going to need a tote it around in public.
You currently have three options:
use a purpose-built bag for carrying firearms
use an improvised bag such as a folding lawn chair bag
use a common bag such as a hiking backpack or laptop bag
Purpose-built bags
Many companies are making bags designed to carry rifles or sub-machine gun-sized firearms in public. These bags share common attributes, such as heavy-duty construction, padded interiors, large and durable zippers and zipper pulls, and a manly appearance. Sometimes they are also made to look like common, everyday items.
Unfortunately, most of them have features that make them stand out, and I don't recommend most of them:
They look too military or too much like a range bag.Look at the Discreet "D-Bag" Bag from HSGI, who makes really good stuff but doesn't understand what the word "discreet" means:

They have logos or visual design elements that "out" them as tactical bags.The best example of this are Sneaky Bags, who are very well built. Here's an example of the 30″ CRB (Covert Rifle Bag):

The problem here is the Sneaky Bag logo at the bottom of the bag. Too obvious if someone knows about Sneaky Bags. The average person (including a thief) may not recognize this logo, but law enforcement personnel and other armed civilians may. I don't want any attention from anyone. Concealed is concealed.

They are too big and/or have a noticeable shape for most common environments.Blackhawk makes a Diversion series of firearms bags that look like everyday bags (mostly). They make a workout / duffle bag, a racket bag, a messenger bag, a sling bag and two different backpacks.

The duffle bag is too big, and the larger skateboard-style bag they make is borderline based on your environment.
If you're going to buy a purpose-built concealed carry bag for a rifle, I like the construction and features of the Phantom Trekker by Tactical Tailor:
Unfortunately it is very, very expensive at $350 and is very big. Depending on your environment and manner of dress, it may stick out. This looks very similar to the type of hiking backpacks I used to see on the light rail train to work, and if you live in an outdoor-oriented place it might blend in. However, I find this bag too "adventure" for going to the mall or library or wherever, and the price is something to consider.
Improvised bags
Many people also use improvised bags such as tennis racket cases, folding chair bags, or yoga mat bags to carry a firearm in public. Skateboard bags seemed popular this year on various Internet forums.
The problems with improvised bags are usually that they are not durable enough for daily / frequent carry and that they don't match your typical environment. For example, a lot of people I know that carry rifles in public use a tennis or racket bag. They might use an actual tennis bag or one like this, made by Blackhawk:
The Blackhawk bag is well made, but when a big burly guy is carrying around a tennis racket bag in a mall I think it draws a lot of attention. No one's going to play tennis in the mall, buddy.
It also makes me smile when I read accounts of very rugged, very old-school macho firearms instructors carrying around yoga mat bags with rifles in them. Who are they fooling? I bet these guys can't even name two types of yoga.
Some people who use a folding chair bag only employ it to carry a rifle from their car to, say, a hotel room. In this situation it's not about carrying the rifle in public. It's about moving a firearm without people recognizing a traditional rifle case. It's a theft thing, not an availability / concealment thing.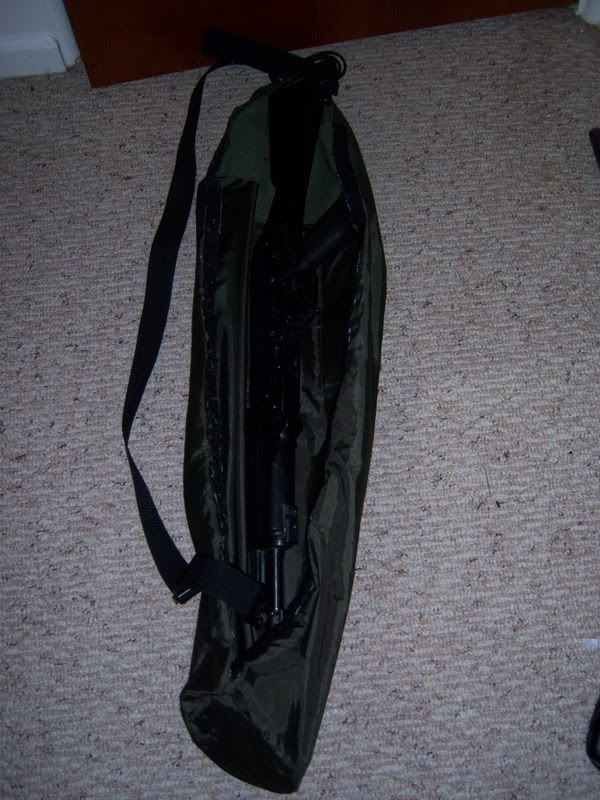 The material this chair bag is made out of is too thin to avoid printing, and may rip or mar after repeat use.
Common bag
Common bags are what I use for my SBRs. By "common" I mean common messenger bags, laptop bags, or backpacks that are available at a mainstream store like Target, Wal-Mart, or Amazon.com. I carried my SBR AK in a Timbuk2 messenger bag for a few months, and now carry it in a "daypack" sized backpack made by Mountain Hardware. My wife carries the KPOS SBR Glock enclosure in a triangle-shaped slingpack that is worn over one shoulder.
The biggest strength to these common bags is that they look exactly like "real" bags normal people carry because they are real bags that normal people carry. They have the same logos, profiles and sizes of bags hundreds of commuters carried on my daily trips to and from work.
Like some of the improvised bags, common bags may not be made from sturdy enough materials to hold up to carrying a rifle day in and day out. I found this to be especially true when trying out different sling packs that are part backpack, part messenger bag.
My recommendation is to choose manufacturers that have a true bike courier / messenger or climbing heritage. My Mountain Hardware bag was $55 delivered and blends in just about anywhere.
You are going to need to break up the pattern of the rifle and keep the muzzle from deforming the bag if you go the "common bag" route. I do this by using a padded 17″ laptop sleeve. I put the sleeve into the main compartment of my backpack and leave the top unzipped. My AK is 17.5″ folded, and sticks out of the top of the sleeve. However, the sleeve is padded and thick enough to obfuscate the profile and keeps the rifle from damaging the backpack. The sleeve is also portable, so I can put the sleeve in different bags, such as my Timbuk2 messenger bag.
Traits to look for in a "common" bag:
The bag should be sturdy enough to hold the weight of a rifle and ammunition. My SBR AK-47 is eight and a half pounds empty, and I carry a 20- and 30-round magazine in my bag.
The bag's bottom and back should be durable; the weight and sharp-ish edges of a rifle will wear on the bag's material.
The main content area of the bag must be easily accessible.
The strap(s) and/or handle must be well-made and attached securely enough to handle the weight of an SBR, plus ammunition, plus whatever else you might store in your bag.
I recommend bags with at least two compartment areas. You don't want to access your rifle compartment unless you have to. I keep various work items in the front pocket of my backpack. I also store my laptop, lunch and coffee thermos in the main compartment.

I'm racing against another student. I need to open my backpack, deploy the AK, chamber a round, and fire before he can hit four targets two times each.

This is the bag I carry my AK in every day.
Conclusion
If you are short on time and long on cash, and don't mind something that has a higher chance of identification than the other options, I think there are some legit purpose built bags for carrying your SBR in public.
However, if you don't mind doing some research and some trial-and-error and want to blend in as much as possible you should consider a common bag.
I'll be reviewing all types of bags this year, with opinions on their tactical usefulness as well as the environments they would blend in the best. Stay tuned.
Short Barrel Shepherd is a regular guy and works to make Web sites and mobile apps easier for people to use. He spends his free time attending fight-focused firearm, knife, and combatives training, motorcycling, writing, and playing games. His daily carry is a Glock 19 pistol and an AR15 .300 Blackout pistol in a backpack.